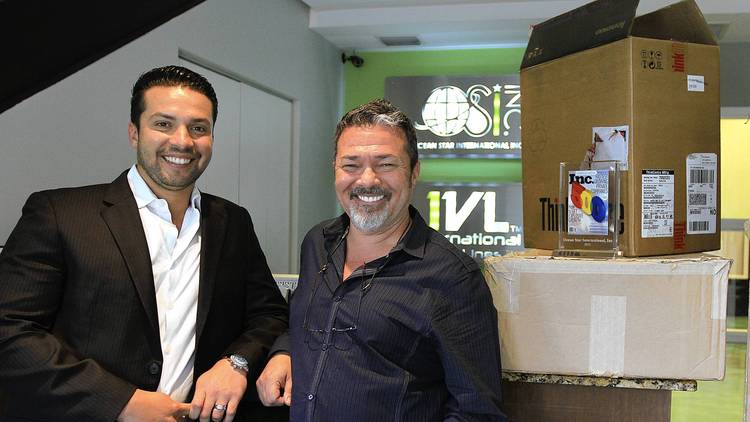 As a student at Taravella High School in Coral Springs in the late '90s, Joshua Morales watched some of his classmates drive around in fancy cars while he worked at Taco Bell part-time to save up for his first car: a used, silver 1993 Mitsubishi Mirage that he bought with $2,800 cash.
Years later, while those classmates were choosing their college majors, Morales was busy saving money and gaining the experience that would allow him to become founder and CEO of his third company by age 30.
Morales — who told his story at the recent Hispanic Unity Entrepreneur Summit at the Hollywood Westin Diplomat Resort and Spa — owns two transportation companies that are expected to generate more than $8 million by the end of this year. The entrepreneur, whose companies employ his wife and his father and serve international clients like the chocolate-manufacturer Godiva, did it all without a college diploma or student loans — both of which he says he's done fine without.
"The clients never had any concerns or questions about [my education] and, since I owned the company, I never had to answer to anyone," Morales said. "But when I was at business meetings or sat in boardrooms to try to sell my services, I guess you can say it made me a bit nervous. It was a personal thing that I eventually got over."
At age 24, Morales became the youngest person to obtain an ocean freight permit from the Federal Maritime Commision, a license he used to start his own shipping firm, Ocean Star International. Four years later, he launched International Van Lines, a company that provides relocation services to employees moving to foreign countries for their jobs.
For Morales, the journey to CEO started after graduating from high school, deciding against college and working his way up from part-time jobs to steady, full-time work.
By 18, he was appointed sales manager at an AT&T call center in Margate, where he worked until the center closed in 2000. A few weeks later, a co-worker who was also laid off suggested that Morales apply for a job at Global Logistics, a transportation and shipping company where her husband worked.
He became a manager in the company's ocean freight division, in charge of importing and exporting products from countries as far away as China.
"I'd set up the entire process, from pickup to delivery, bringing products to the United States and distributing them to different stores," he said, adding that he not only worked with mom-and-pop businesses but also with big companies like Hewlett Packard and IBM.
His three years at Global Logistics provided him with the contacts and savings to start his first company, but it was actually his Taco Bell part-time job that prepared him for a life of hard work.
He remembers that as a teenager he hated the job, and he was fired. But Morales said the job taught him a valuable lesson: what hard-earned success felt like, once he was able to buy the used Mirage.
"That was the greatest day of my life," he said, smiling. "I loved that car and treated it like a Ferrari."
It was a lesson in determination that he learned from his Puerto Rican father and Colombian mother, strict disciplinarians who made him memorize the names of American presidents and the chapters of the Bible whenever, as a child, he asked for a new bicycle or skateboard.
"His friends were sons of doctors and lawyers, and at 16 they were driving around in BMWs and Mercedes-Benz," said his father, Jay Morales, who went to work for his son and is now vice president after closing his own business during the recession. "I told him, even if we had the money, he had to go out and work. I never felt that handing him stuff was the right way to do it."
In 2004, a 22-year-old Morales quit his job at Global Logistics and used $5,000 in savings to open his first company, All In One Shipping, which he ran for a while out of his bedroom in his parents' home.
"I took a big risk," he said. "I left on good terms and didn't have a non-compete [clause], and I had saved up some money knowing that I wanted to open my business."
But after he rented an office in Sunrise and secured a few clients, his plans were derailed when the federal government denied him a shipping license.
"I sent the application to the Federal Maritime Commision and they sent me back a big package that basically said I was too young and needed more experience working for another company in the industry," he remembers.
He closed All In One Shipping and worked for a container company for a year. He was 24 when he reapplied for a shipping permit, and not only got it but was also told that he was the youngest person to ever receive one.
"I cried. That day changed everything for me," he said.
Two weeks later, in July 2007, he started Ocean Star International, and in 2011 launched a second firm, International Van Lines, both based in Coral Springs. He projects that Ocean Star will generate $6 million in revenue, and his second venture $2.5 million, by the end of 2013.
Ocean Star is ranked 1,476 out of 5,000 firms in Inc. Magazine's list of America's fastest-growing companies. Morales is now looking to hire sales and customer service employees for his two firms — and no diploma is required.
"The tough part is finding good people. I can get resumes and people coming in the door all day, but it's about finding people that are honest, that have integrity and are willing to work hard," he said. "I would rather have that than a Harvard degree, any day."
Source – Sun Sentinal